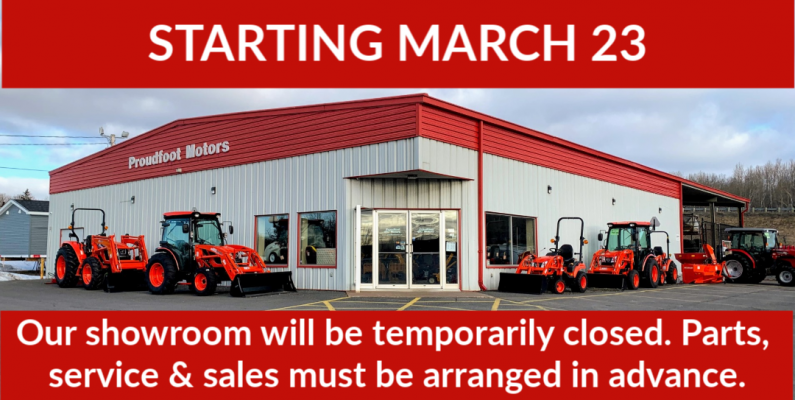 COVID-19 Operations Update
The past week has seen continual changes in our province and around the world as we deal with COVID-19. We have decided that the safest thing to do for our employees, customers, and families is to temporarily close our showroom to the public at 4:30PM on Friday, March 20 for a 2 week period. We hope to reopen on Monday, April 6. It is important that we all practise social distancing and do our part to flatten the curve. 
We remain committed to our customers and employees. We know that we have agricultural, forestry and business customers who depend on us to keep them up and running, and we are going to serve you as best we can during this time.
So here are the ways that our customers can contact us.
Please note: Any customers who meet any of the following criteria must disclose this to us in advance when inquiring about parts, sales or service. We will make arrangements to accommodate you but this will be different from our pick up option below.
Have returned from outside of Canada within the last 14 days

Feel that they may have been exposed to COVID-19

Feel unwell (cough, fever, or flu like symptoms) 
PARTS
While our location will not be open to the public, we will be able to fill parts orders. Here are the ways we have currently available.
Online: A Parts Inquiry Form has been added to our website

Email parts@proudfootmotors.ca

Phone 902-752-6220. We will be answering phones from 10AM-1PM Monday-Friday and will checking messages a couple times a day. We will have an emergency phone number on our voicemail for critical parts issues.
We will respond to you with pricing and availability. You can pay for your order via credit card or interact e-transfer payment to accounts@proudfootmotors.ca. We will arrange a pick up time and have your order ready at our exterior pick up location. Please let us know when you contact us if this is a critical parts order. For any parts that are currently on order, we will let you know when we receive your order and arrange exterior pick up.
EQUIPMENT SALES
1. Email For equipment sales inquiries and quotes, please reach out to via email to sales@proudfootmotors.ca or view our equipment listings on our website we have most of our equipment online. If you are out for a drive, most of the equipment in our yard has prices on it. We request that you maintain space from other people in our yard. 
2. Phone We will be answering phones from 10AM-1PM Monday to Friday. Call us at 902-752-6220. Voicemail messages can be left. 
SERVICE - Must be arranged in advance
1. Email For service inquiries, please email service@proudfootmotors.ca.
2. Phone Call 902-752-6220. We will be answering the phone from 10AM-1PM Monday-Friday and will check messages. We will have an emergency phone number for any critical service issues. 
We are going to adapt to this situation as best we can and will do our best to keep our customers up to date. The best place to check for updates is here on the blog on our website or our Facebook page
Thank you for supporting our business and for your understanding during this unprecedented situation. Stay healthy, wash your hands, and follow the instructions of Public Health! 
Sincerely,
Colleen Proudfoot, President